If you want to have usable sizes of sheets you have to cut the large metal sheets with the metal cutting saw blades. There is no alternate for this beyond the metal cutting saw blades.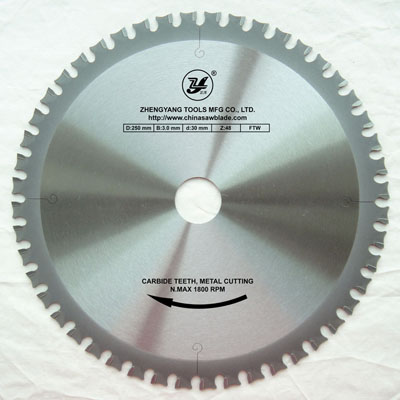 Metal cutting saw blades are working to increase output. These are best and simple for those skilled professionals who usually cut some ordinary materials in every job location. Many materials like sheet metal pipe, steel plate, angle iron are used approximately everywhere. Dedicated saws and blades made to carry out the job are quite latest to the industry, so few fabricators are unaware of this technology. Using an appropriate saw and a tool can save time and money. For perfect performance, it is suggested that a blade and a saw made particularly for metal cutting must be used.
Important Concerns
Maintaining and choosing electric metal cutting saw blades- There are numerous aspects to consider when you are out to purchase these blades and it is its application. These blades are made from some materials such as, steel, copper or aluminum.
Blade Design and Pitch - Design and pitch of the ductile blades are determined by the size of work. The information and instructions are clearly mentioned on the packaging. You can contact directly to the technical department it there is any doubt regarding metal cutting saw blades
Use and Employ specific cutting saw blades only - It is suggested that metal cutting saw blades must be employed for cutting many structural and solids. Though for some versatile and different applications, circular cutting saw blades are appropriate and the reason is it has no limitations. You can found several applications printed on the packaging of metal cutting saw and blades.
Compulsory Proper Application - Metal cutting saw blades is not supposed to be mounted on wood cutting saws. There is a reason behind this and that is the torque, which is developed during the process of metal cutting. This can damage the tool, injure the operator or even machine can stop working. The blade must be allowed to spin up in full speed, before you start the work. This lets the blade to perform well and avoid tool damage.
Avoid using a dull blade - A dull blade can put a lot of strain and stress on both the operator and saw. Using a dull blade is very risky because the operator has to put additional force to cut. Moreover, it can also damage and bend the saw because of overwork by the motor.
Purchasing- One should purchase a blade with the accurate features for the saw and work. A metal cutting saw blades make simple, accurate and safe crosscuts. From now, pick up the proper saw blades from the hardware store if work of cutting metal sheets is involved in your project. It is essential to know the features of different metals, the right and safe ways to cut the metal sheets and ways to use equipments and accessories. Plan must ready be to perform work. For different metals different metal cutting saw blades are used for example the metal cutting saw blades which does perfect work on the aluminum sheets may not work perfectly and properly on the stainless metal sheets, because their hardness varies.